Beauty, Hair & Health Benefits of Aloe Vera
Aloe vera is a popular medicinal plant that has been used for thousands of years. Ayurveda refers to aloe vera as the miracle herb that can be used to treat wounds, minor cuts, dry skin and severe burns but other than these Aloe vera has many hair, skin care and health benefits as well. Check out the top aloe vera benefits
1. Aloe Vera for Dry Skin
Method
Take some aloe vera, a pinch of turmeric, a teaspoon of honey, a teaspoon of milk and a few drops of rose water.

Blend this mix till you get a paste.

Apply it and leave in for about 20 minutes or so.
2. Aloe Vera for Acne
Method
Take some aloe vera gel, blended walnuts with a flour like consistency and honey.

Aloe vera's healing properties coupled with the anti-oxidants from honey will leave you with smooth and clear skin.
3. Prevents Premature Signs Of Aging
Wrinkles and fine lines are bound to appear as you age. But, other factors may expedite what is a natural process. Aloe vera helps in preventing these early signs of aging.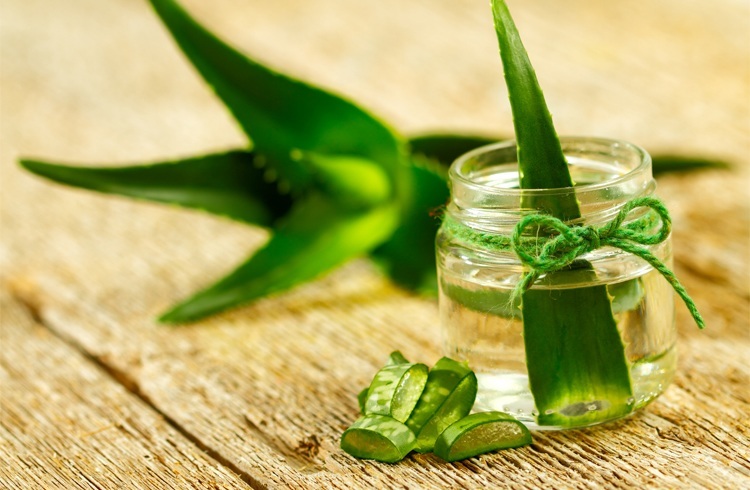 Method
Take 1 teaspoon aloe vera gel, ½ teaspoon olive oil and 1 teaspoon instant oatmeal

Add all the ingredients in a bowl, and mix till they form a paste.

Apply the paste on your face and keep it on for 30 minutes.

Rinse with cold water.
4. Promotes Hair Growth
Aloe vera is not just great for your skin; it also has a number of benefits for your hair. Topical application of aloe vera can help promote hair growth.
Method
Take 2 tablespoons aloe vera gel and 1 tablespoon castor oil

Mix the aloe vera gel and the castor oil.

Gently massage the concoction into your scalp.

Keep it on overnight, and rinse with a gentle shampoo.
5. Aloe vera for weight loss
Aloe vera is used in a wide range of health products, like diet supplements, juices etc. It's rich in anti-oxidants which means it helps cut out free radicals in the body and boost your immunity.
Method
Take the gel, dice it into small pieces and blend.

Now mix a bit of this with some other fruit or vegetable juice that's preferably sweet.

You can also use the leaves of aloe vera, blend them, strain and drink.

If you find it too bitter then mix it up with honey and drink.

You can also add some lemon to this mix.
6. Excellent for digestion
It's worth trying for anyone who suffers with digestion problems like IBS. Its healing and soothing properties can help with the painful symptoms.